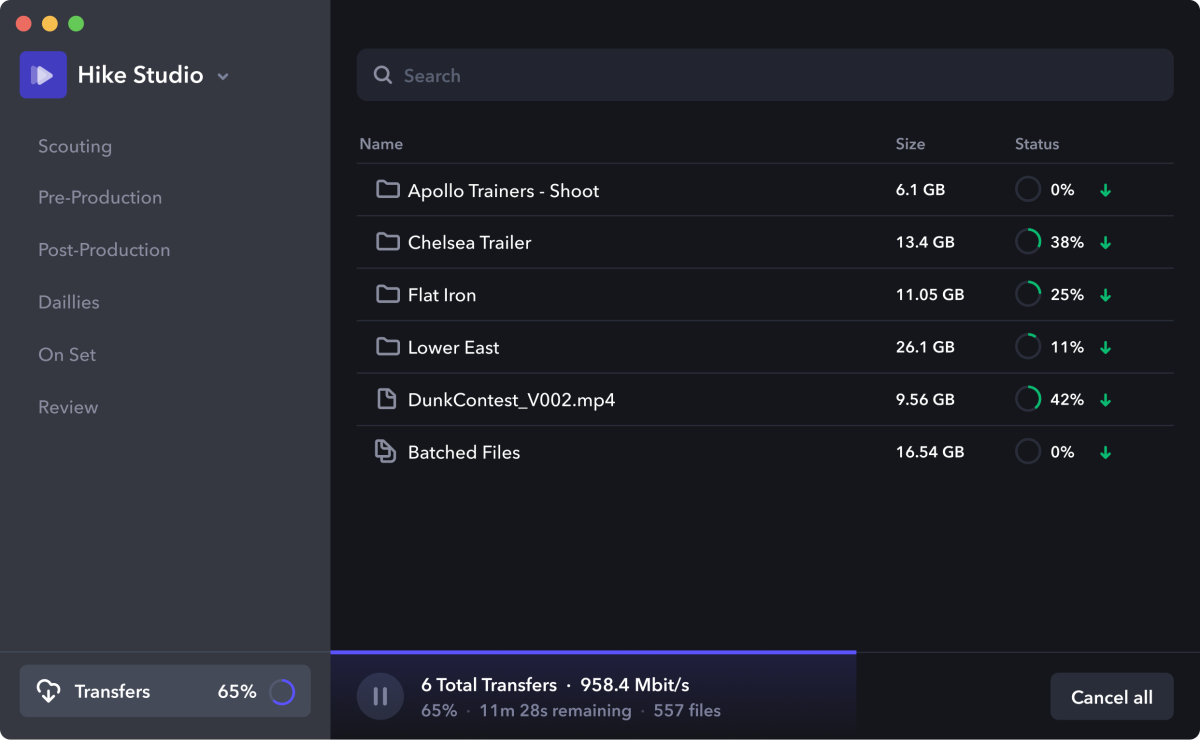 Over the past few years I've been amazed at how it's become easier and easier to move large media files over the Internet. As recently as two years ago when producing a tv show, I would Fedex drives back to our NYC office every night. Then we started using fast broadband and the right services to move the media completely on the net.
The three pieces to being able to do it are:
A fast broadband connection at the site of your shoot. This is easier if you are shooting at a studio, and sometimes more challenging if you are shooting on location, and have to depend on things like hotel broadband.
A fast broadband connection at the office (or nowadays at home). Also this isn't quite as hard lately, especially if you can get fiber.
A service to move the data - This is the tricky part.
In the past year or two we would frequently find ourselves with fast broadband on both sides, but no easy way to actually move terabytes of data. Traditional methods of sharing files, like Dropbox or Google Drive, are simply way too slow. They are fine for sending final deliverables to a client, but if you acquired say 1TB of data in a day, you are better overnighting drives to your post facility. Certain services have come along that use UDP (fast, but error prone), instead of TCP/IP (how most stuff moves around the Internet) to move things in a way that will maximize your fast broadband. Here were the existing ones that I've used or have been recommended:
Aspera - Created by IBM, is a standard for working with large organizations such as TV networks. It's expensive, hard to set up, and definitely an enterprise solution. It comes in a bunch of different flavors. Aspera on Cloud, a version that's a little easier to set up is still expensive. In my experience, if you are working with a very large client that already uses Aspera, it's great. I have used it to get an assistant editor working on a tv show we were producing less than 12 hours after we wrapped production for the day. You pay based on how much you upload and download, and it adds up. Also the customer service is awful.
MediaShuttle - I've heard both good and bad things about this service, but haven't used it. It requires setting up your own server, which is something that is a bit more difficult in the world we are living in.
MASV - MASV is an upstart in the space. Their service is easier to use than Aspera, but the price can add up. Uploading is free, but downloading can add up. 1TB of downloading can add up to $250. It works very well, and they keep adding more and more great features.
And now the most exciting addition to the space is Frame.io. Traditionally a service for screening and noting videos, they've added many more features including very fast uploads and downloads. They realize that this is a service people need, and they keep making it better and better. With Frame.io you pay for the space you use, not for uploading and downloading. You can upload directly from an iPhone, which is very important in our current environment, and perhaps the most impressive aspect is automatic, seemingly on-the-fly, proxy generation. That means if I have an editor who doesn't have an amazing broadband connection, they should be able to download everything needed to do a quality offline edit, without us ever needing to make proxies. Their Premiere plugin and Transfer app are really what makes it possible. Finally, their commitment to remote workflows throughout the pandemic has been impressive. They have become a tool that we use more and more, and I think a lot of other producers are going to start using these tools. I can't overstate how impressive and accessible it is.